Do you struggle with headline writing?
Yup, me too. I think all good writers do. There are some days when I'm feeling on, and the headlines flow from my fingers.
And there are other days when I look at the page and think, "Everything I write is boring and nothing will work."
Sound familiar? Well, do I have a tool for you — and it's even free!
CoSchedule's Headline Analyzer
Why is Headline Analyzer so great?
Because it "scores" your headline from 1-100, and it gives you tips on how to improve it. For instance, here's what it said about one of my original headlines for this newsletter: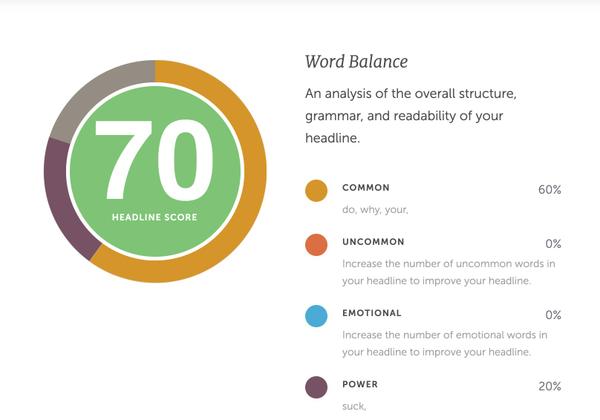 A score of 70 isn't bad, but I wanted to see if I could do better.  Fortunately, CoSchedule tracks your headline attempts and shows you how they all rate. This helps you find the "best" one more easily.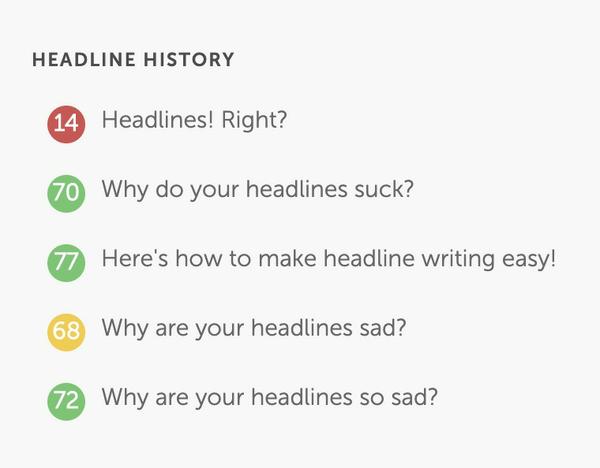 You can see how I was having fun with my first attempt – I scored a whopping 14 points! But check out the other variations, especially the last two. Simply adding one word (so) to the headline boosted the headline score by four points.
Outside of the rating, Headline Analyzer will also give you specific advice for ways to make your headlines better, such as "your headline is too short" or "emotional headlines pull better." Nice!
Headline Analyzer also helps us get our egos out of the way and get a feel for what works.
Let's face it, not every headline we write is a winner. Some are stinkers —  even if we're convinced they smell like fresh daisies and will get ALL the click-throughs. 
Running a quick headline check will help us determine if we're on track…or if we need to go back to the drawing board.
I use CoSchedule for a client's social posts, and I love the way CoSchedule makes it easy for me to (generally) measure a post's effectiveness. It especially comes in handy when I'm having a brain-dead day, and I need a little help creating the perfect LinkedIn headline. 
So, this all sounds fantastic. What's the catch?
First, you need to sign up for the free tool. You aren't handing over your credit card information — but you do have to give up your name, email and company. That's fair.
Second, just because CoSchedule is a super-cool tool, doesn't mean that it's an infallible one. 
Danny Goodwin, Executive Editor of Search Engine Journal, discussed CoSchedule during his chat with my SEO Copywriting Certification students. It's a tool he uses himself — in fact, he said "For me, there's only one headline analyzer." He uses it to play with different headline ideas and to see what could work…
…at the same time, he said that CoSchedule chose the best-performing headline just 40 percent of the time (SEJ has the ability to test different headlines and track the metrics.) Danny recommended running your own A/B test (you can find WordPress plug-ins or use a platform like Optimizely) to find the true winners. 
Just to be sure.
It's one thing for software to choose "the winner" based on a formula. It's another to test a headline in real life. Even Danny had an example where a boring, sad headline ("COVID-19 Emojis") got a record number of shares in SEJ. 
So, like Yoast, SEMrush and other tools out there, CoSchedule's Headline Analyzer isn't perfect. You may not want to implement every suggestion — and their metrics may not be 100 percent reliable — but what they DO tell you is invaluable. 
And, unlike most SEO writing tools, it won't make you shell out your credit card and pay $100+ a month.
Free is an excellent price.
What do you think?
Does headline writing cause you pain? Do you use a cool A/B headline testing tool? Leave a comment and let me know. 
https://seocopywriting.com/wp-content/uploads/2020/09/How-do-I-write-a-great-headline.png
450
830
Heather Lloyd-Martin
https://seocopywriting.com/wp-content/uploads/2021/09/seocopywriting-logo.webp
Heather Lloyd-Martin
2020-09-30 05:30:01
2020-09-30 19:03:49
Here's How to Make Headline Writing Easy!